Philippines
In 2006, Suken Tests were administered in Talisay City in the Province of Cebu in the Philippines. Currently, the tests are administered once a year in Manila and Cebu. The total number of applicants is approximately 17,000 as of 2019. In the Philippines, the tests are taken not only by students but also by teachers.
The Institute not only administers Suken Tests but also supports learning by holding seminars that provide explanations of test problems and other matters. The Institute is privileged and delighted to receive positive comments from local persons; for example, "We see a decrease in the number of students who fear mathematics," "It's refreshing to have a lot of number problems with figures and illustrations," and "We find it very beneficial that the Japanese not only administer the tests but also come so that we have opportunities to discuss mathematics together."
Also, in the midst of the damage caused by super Typhoon Haiyan (known locally as Yolanda), which hit the Philippines in 2013, schools that administered the Suken Tests cooperated by donating writing materials to children in stricken areas.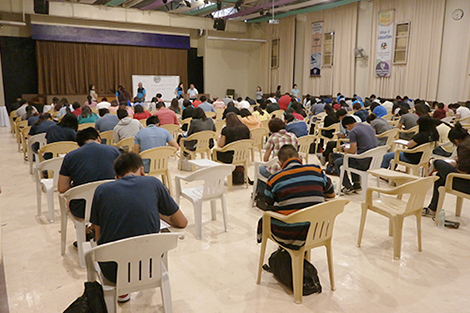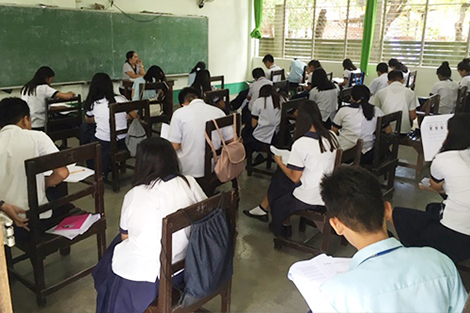 Number of Applicants
Change over past 5 years in number of Suken Test applicants
| Year | Number of applicants |
| --- | --- |
| 2020 | 0* |
| 2019 | 521 |
| 2018 | 666 |
| 2017 | 634 |
| 2016 | 613 |
* We did not hold the Suken Test in 2020 due to the Covid-19 pandemic.
Past Track Record
| | | |
| --- | --- | --- |
| Year, Month | Venue | Note |
| 2019, Nov. | Manila | Suken Test, Seminar |
| 2019, Mar. | Cebu | Suken Test, Seminar |
| 2018, Nov. | Manila | Suken Test, Seminar |
| 2018, Mar. | Cebu | Suken Test, Seminar |
| 2017, Nov. | Manila | Suken Test, Seminar |
| 2017, Mar. | Cebu | Suken Test, Seminar |
| 2016, Nov. | Manila | Suken Test administration, presentation at the Math Circle mathematics education conference, learning support |
| 2016, Mar. | Cebu | Suken Test, Seminar |
| 2015 | Cebu, Manila | Suken Test, Seminar |
| 2014 | Cebu, Manila | Suken Test, Seminar |
| 2013 | Cebu, Manila | Suken Test, Seminar |
| 2012 | Cebu | Suken Test, Seminar |
| 2011 | Cebu, Manila | Suken Test, Seminar |
| 2010 | Cebu, Manila | Suken Test, Seminar |
| 2009 | Cebu, Manila | Suken Test, Seminar |
| 2008 | Cebu, Manila | Suken Test, Seminar |
| 2007 | Cebu, Manila | Suken Test, Seminar |
| 2006 | Cebu | Suken Test, Seminar |